Collaboration in Group Dynamics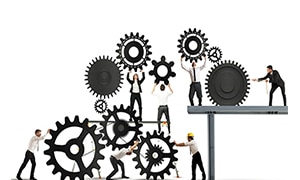 When collaboration happens - high performance happens
There is a difference between a group and a team…
When a group becomes a team, that team must speak a language of agility, display flexibility and resilience, and sustain cohesion and strategic direction. Within the group, experiences are subjective. Members may have different approaches to assess whether they experience the requirements of being a team.
In a fast changing and increasingly complex world, it is those teams that are agile and unafraid to try new ideas, to trip and learn, that will be most effective. Those able to flex and change as the market requires, without losing cohesion and strategic direction, will be the ones that lead the way. 
When exploring Group Dynamics, leaders and their teams pick up the cues and subtleties of the individual and group behaviours and interactions. This sheds light on the degree to which groups are aligned and able to work in both a high performance and a learning environment at the same time.
As businesses explore and increase understanding on group dynamics, they gain practical tools to have collaboration flourish.
And when collaboration happens, high performance happens.
Outcomes
Establish consensus on the current state of the group
Explore group dynamics from both individual and collaborative perspectives
Articulate how perceptions impact the experiences employees have within the different groups they interact with inside the organisation
Create a storyboard with actions that will enable collaboration in the group
Methodology
Interactive storyboard: The Group Dynamics approach we work with facilitates a group's evaluation of the context in which they operate
Open dialogue of own experiences of being in a group
Who will benefit?
Leaders and their teams who are unafraid to try new ideas, trip and learn
Leaders and their teams looking for efficient and effective ways to move into high performance
Leaders and their teams who understand that collaboration is a must to deliver on strategies
For more information about Collaboration in Group Dynamics…